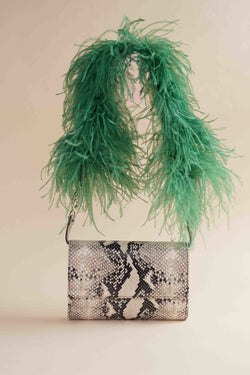 Lijadu Bird Bag with Cactus Green Handle
The Rarest bird: The Lijadu bag presented this season with a decadent feather cactus green handle and stone faux snake bodice.

Comes with a removable strap and interior mirror.  Multi-card holding interior pockets and zip pouch.  Wear as a clutch or over the shoulder.
Please keep this bag forever, it's meant that way. It is never going on sale.
You might also consider....