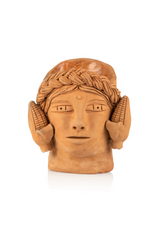 Teresita with Maiz
The Teresita with Maiz sculpture honors the love story between José and Teresita. After becoming a well known Oaxacan ceramicist, José Garcia Antonio lost his vision 22 years ago. Now José sculpts her face from memory while she, alongside her daughter Sara, puts on the finishing touches.
These terracotta ceramic planters are handmade using clay from the soil in their village and have a drainage hole.
Please note, this product is only available for local pick up from our flagship.
Length: 9". Width: 6"
You might also consider....