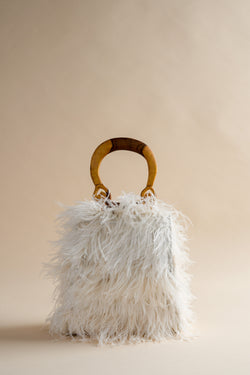 Nile Bird Bag in Cloud
The Nile Handbag is a signature shape in the Brother Vellies archive. She enjoys mini skirt suits, candlelight dinners, and well thought out plans.  
Now available in a tiny batch in our whimsical cloud feathers for special occasions or every day life.
The handle is rosewood carefully hand carved by female artisans in Kenya, with our signature Brother Vellies peacock logo.
You might also consider....