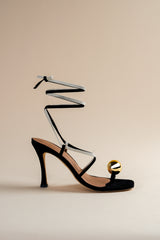 Globe Sandals in Era
We are releasing a tiny batch of this custom design made by Aurora James inspired by the 2022 Met Gala: Gilded Glamour.   
'Gilded' means to show how wealth and glamour was used to conceal the social unrest and turmoil of the era. 
The Globe Sandal is reimagined in a two tone color way in Black and White Suede with a Golden Globe, symbolic of the social unrest of our times, masked by a golden globe of glamour.  
One shoe is Black with White straps, and the other is White with Black straps.
You might also consider....